Tons of Content, Tons of Value
Online
MedEd
Uworld
Becker
Firecracker
Kaplan
High Yield
DiT
Videos
Free
Notes
QBank
Cases
Flashcards
Updates
Duration
12 Mo.
12 Mo.
3 Mo.
12 Mo.
3 Mo.
3 Mo.
Price
$480
$400
$900
$300
$500
$800
Customize Your Education
Learn at your own pace, on your schedule, how you want. You pick the topic - it's all available à la carte in easily digestible segments, organized by clerkship and specialty.
One Stop Shop
No more juggling different subscriptions with different companies. With OnlineMedEd, it only takes one subscription to score higher and perform better. Get real practice - for the test and for life.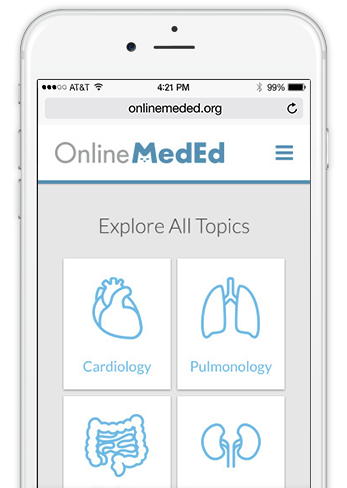 Become a Better Doctor
We lay out the foundation of knowledge for the rest of your career. Let us prepare you for the wards so you walk in knowing what's going on, which allows you to focus on the subtleties. The time spent with your residents and faculty can be spent getting to the next level - not just catching up.
Interested in a class discount or purchasing for a school?
We'll work with you!