What our users are saying
Absolutely love it. It's better than many of other review series. After Step I will definitely contribute so OME can continue this great work! Thanks Dr. Williams!
Had a 39 point jump from my Step1 score to Step2 score. Wish I would have known about OnlineMedEd sooner and used to study for Step1.
I am a physician assistant in critical care. I used your site for a review for my recertification. I graduated PA school in 97. I wish you were around then, as the lectures were better than any in my school. Material that seemed difficult to understand then was made clear by the lectures. I passed my recert with no problems plus learned new material
I love OnlineMedEd SO much. So far I have only used the internal medicine content, but the way Dr. Williams breaks down and presents the information works really well for me. I sing the praises of OME to my classmates! Thank you for all you do!
I love you guys!! I really recommend OnlineMedEd. I feel my mind is organized and ready for a 270!!
I loved that the medical lectures were not simply bullet points that could be read in textbooks. The lectures contained philosophy and real world knowledge for the art of healing in combination with the science of medicine.
OnlineMedEd is one of the most useful and reliable sources of information throughout my physician assistant education. Dustyn has a wonderful and thorough way of approaching medicine that hits so many of the right educational notes needed to appeal to the many learning styles out there. Visual learners I've spoken to can recreate his diagrams in their mind. Aural learners have easily clung to the succinct and measured ways he speaks. Those with a penchant for using their hands have drawn out their own thought process, sometimes inspired by the notes and whiteboard work done in the videos. I recommend OnlineMedEd without hesitation.
I like the way that each topic is structured. It makes learning and looking for specific information easier for review and on wards. The length of the videos are perfect for my daily schedule, but also because I can binge watch and get ahead if I have time to. I carry the QuickTables book in my white coat and it's helped me answers pimp questions.
OnlineMedEd is my primary source for study during my clinical year of PA school. Dr. Williams almost always presents the information with a heavy emphasis on clinical reasoning. As a result, the didactic knowledge within the lesson is much easier to learn, practice and retain because the relevance of that information to the patient problem is obvious from the beginning. Although I am challenged by the clinical medicine, I never feel lost or disinterested with Dustyn's lessons like I have been with many too many lessons and reading assignments in my program. I am always eager to try the clinical questions after the lessons and find the explanations to be reinforcing. OnlineMedEd has become the anchor to my learning and I use access medicine, textbooks and articles to add specific details to the fundamentals I learn from OME
I discovered [OnlineMedEd] a few months before my step/level 2 exam. I thought OME was an invaluable resource and fully attribute it to my high scores on boards. I'm the kind of student that needs video/audio lectures to learn the quickest vs just reading material myself and these videos were perfect. Planning on reviewing again before intern year starts. Thank you so much!!!
The student testimonials on this website do not reflect the opinion or endorsement of their educational institutions.
MEET YOUR LEAD EDUCATOR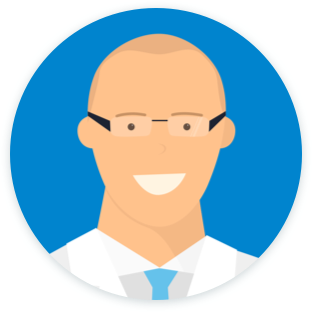 Dustyn Williams, MD
Hospitalist and Clerkship Director, Tulane and BRG
Dustyn knows med school is hard enough. Just because someone is a great doctor doesn't mean they're a great teacher. He created OnlineMedEd because this is the content he wishes he had when he was in your shoes.
We help launch professional careers.
Our mission
MAKE GREAT DOCTORS
Our mission is to change how medical education is approached, how medical schools deliver it and how students learn it. We want you spending time using what you've learned to practice actual medicine. That's done by making learning easier, faster and more reliable. Learn everything you need and nothing you don't. And make it stick.
Register for Free
Our process, your success.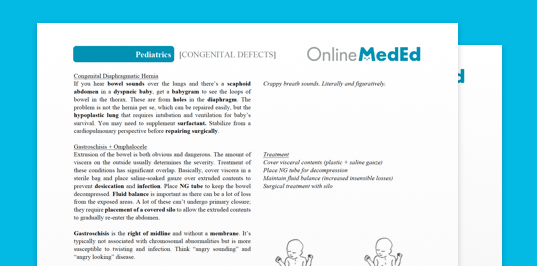 Prime
Notes
400+ pages of notes with diagrams, tables, tips and insight into topics.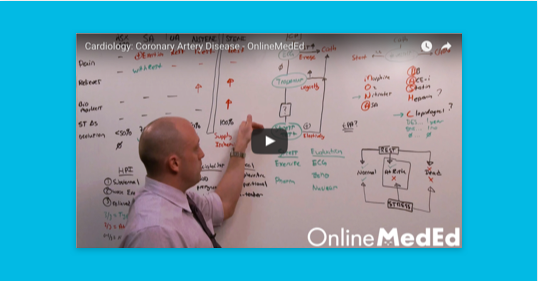 Acquire
Video & Audio
70+ hours of organized, high-yield content to get you prepared for the boards and the wards.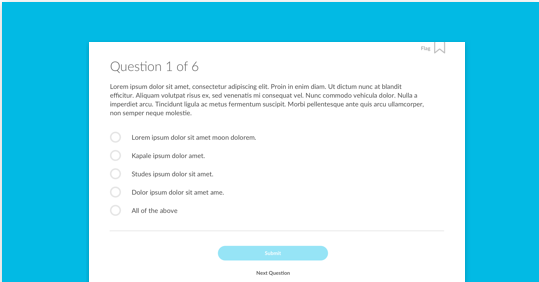 Challenge
Questions
Board style vignettes you can take by topic or mix and match to prepare for the test.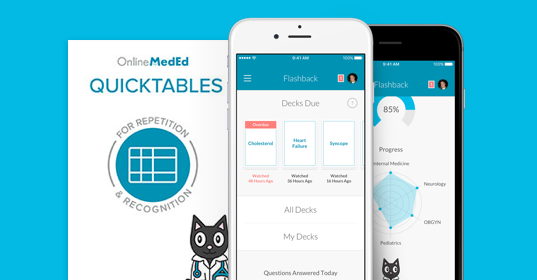 Enforce
Flashcards & QuickTables
Flashcards to review and reinforce the most essential, high yield information.
You could be watching free videos in just 30 seconds!
Join over 150,000 students using OnlineMedEd each month.
Register Now
Thousands of OnlineMedEd users can't be wrong...
We recently conducted a survey of our user base, asking for feedback on OnlineMedEd. Specifically, we asked people to tell us what they liked and didn't like about the platform. We received thousands of responses and admittedly some almost brought tears to our eyes. We're very proud to share them below.
The student testimonials on this website do not reflect the opinion or endorsement of their educational institutions.